The West Coast, in particular California, has always been the trend setter with regards to trying new technology. Right in line with this, Josam Company California Sales Manager, Charles Stillman has been the leader in successfully promoting Josam Company's stainless steel retrofit liners.
Shortly after introducing the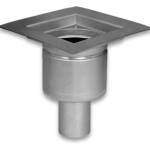 Josam liners, Charles quickly realized that his traditional calls on specification engineers, mechanical contractors and wholesalers would not be the ideal path for selling the liners. The liner was developed to solve corrosion issues on ARE coated and porcelain enameled floor sinks already installed, Charles focused his efforts directly on facilities; including facility managers/engineers located on site, school district engineers, fast food franchise managers and service oriented mechanical contractors. Although Charles openly admits that it is difficult to schedule appointments with facility managers, he has had much better success walking into a casino, hospital or hotel and asking the concierge or person at the front desk to see the facility manager. Charles' experience is that all facility managers/engineers have experienced a corroding floor sink problem. He has found that bringing a cutaway of a liner and placing it in one of their existing traditional floor sinks is a great method to illustrate the final result. Charles also notes that many of these calls lead to discussions regarding corroding pipe and or issues with grease removal.
Charles states, "A recent cost analysis conducted by one of the school districts concluded that the approximate cost for material and labor to replace a cast iron floor sink with another is $2,200.00. Josam's average liner cost and the contractor's labor to install it would be less than half of this cost".
Charles also adds, "This typically is not an item that I am selling 20 to 30 at a time to a customer. They seem to be ordering one or two at a time as they do the repairs, but the orders have been coming in steadily."