OUR HISTORY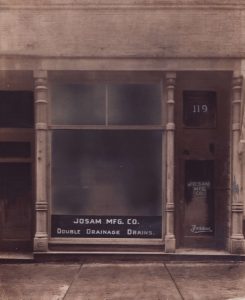 The Beginning 1914:  Josam was founded in 1914 by Joe Hirshtein and Sam Goldman as Josam Manufacturing Company in Michigan City, Indiana. The company made its mark with the double drainage flange drain. Joe Hirshtein was a master plumber who developed and patented many other products that are still a benchmark in the drainage industry today.
1940-1980's:  Caswell F. Holloway Sr. began a business relationship with Josam Manufacturing Company as one of the original Josam Representatives in 1940. The second-generation son, Caswell F. Holloway Jr. joined his father's rep firm when he came out of the war in 1945. Father and son continued as Josam Reps over the next 40 plus years.
Josam Manufacturing Company continued to develop new products. They changed ownership a couple of times and experienced the highs and lows before hitting hard times in the mid 80's and ultimately filed for bankruptcy in 1985.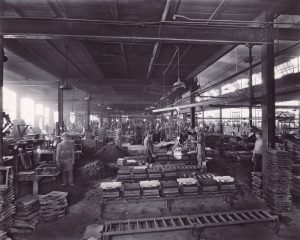 A New Beginning
Late 1980's to early 21st Century
In 1987, the second-generation son, Caswell F. Holloway Jr. and his wife Marie purchased the assets of the Josam Manufacturing Company and breathed new life into the company now known as Josam Company. In 1989, they moved the plant to its current facility on 77 acres in Michigan City. This period also saw the third generation of the family welcomed into the business. The Holloway family brought Josam back to life by remaining true to its central philosophy and values focused on innovation and family. Ultimately, Josam Company was purchased in 1999 by the remaining sons and daughters in the business at the time. 
Current Day
B. Scott Holloway Sr. one of the remaining third generation sons continues today as President and CEO of Josam Company. The other remaining siblings went on to discover other endeavors.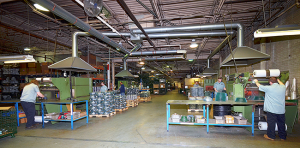 Scott Sr. and his wife Karen are the current owners of Josam Company and are very active in the industry. Scott Sr. first started in the plumbing wholesale business, then as a manufacturer's representative, next as a union sub-contractor in the fire detection industry and finally in the manufacturing industry. Scott and Karen recognize their employees and team of Representatives as the lifeblood of their business. The company takes great pride in knowing and understanding its customers ever changing needs and expectations.
Scott Holloway Jr., the fourth-generation was welcomed into the business in 2004. Scotts Jr. adds the insight of the next generation to Josam Company as well as an international background experience.
Josam takes great delight in being a family-owned business and that it can provide 100 percent American-made products on projects where required.
Memberships: