Josam manufactures a complete line of quality cast iron and PVC specification drainage products that are available in a variety of finishes and with a multitude of optional features.
The complete line of quality cast iron and PVC products include; Water Closet Carriers, Fixture Carriers, Roof Drains, Floor Drains, Sanitary Floor Sinks, Cleanouts, Trench/Channel Drains, Grease Interceptors, Oil/Solids Interceptors, Backwater Valves, Hydrants, Shock Absorbers, and Lite Line Floor Drains. Below are a few of the product highlights.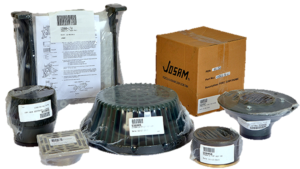 Josam is the only manufacturer to offer a full line of Specification Drainage Products with shrink wrapping package materials that protects the product on the job site and virtually eliminates lost parts.
Not just that, each product is labeled with product numbers and specific project designations, so when it arrives to your job site, you immediately know where it goes.
Watch the video to learn more about Josam's Packaging!
---
Josam offers the industry's highest adjustable height at 4 1/4″ for our O-Ring Adjustable Roof Drain and we are the only manufacturer to offer Roof Drains with four different methods for height adjustment.
Fixed Extension (-10)
Threaded Adjustment with Sealant (-AE)
Adjustment Extension with Rods (-AER)
Threaded O-Ring Adjustment (-OR)
Watch Roof Drain Installation Video
Search Roof Drain Product Options
---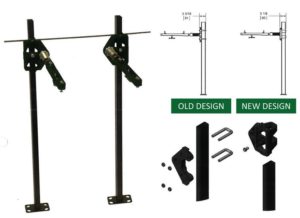 Josam offers labor saving benefits with the 17100 Lavatory Carrier.
Features & Benefits
Eliminated multiple parts for header installation
Single bolt height adjustment
Compact design fits easier into wall
Slot foot adjustment for squaring uprights to wall
Square upright design fits into today's wall construction
Search Lavatory Carrier Product Options
---
Josam is the only manufacturer to offer three types of Water Closet Carriers with either our Standard or Pre-Fab carrier package.


Available in 500 lb., 750 lb., and 1,000 lb. weight load capacities
Tapered Thread Extension (-PF)
O-Ring Extension (-OR)
Compression Ring Extension (-CR)
All water closet carrier trim packages come fully shrink wrapped with all parts secured in the one package.
Watch Water Closet Carrier Installation Video
Search Water Closet Carrier Product Options
---

WARNING: Cancer and Reproductive Harm – www.p65warnings.ca.gov
Learn more about this warning.