Josam's PRO-PLUS™ trench drain system is manufactured using glass-fiber reinforced polyester (GRP)  pressed from sheet molding compound (SMC), which is a composite of polyester resin, mineral fillers and glass-fiber mats.
The material has revolutionized many industrial products and has become indispensable in today's world.  Its applications are wide and varied: from rotor blades for helicopters, bodywork for automobiles, to yachts and aircraft. In fact, glass-fiber reinforced polyester made from SMC is used wherever extreme conditions prevail and special degrees of durability and rigidity are called for, precisely as in JOSAM's PRO-PLUS™ drainage solutions.
PRO-PLUS™ is lighter, stronger and expands and contracts in extreme temperature ranges less than polymer concrete. In addition, SMC/GRP has greater compressive, flexural and tensile strength and less thermal expansion properties than either polypropylene or high-density polyethylene. SMC/GRP is an innovative material and is clearly superior to all other trench channel materials.
Josam's PRO-PLUS™ Trench Drain System is available in various widths and depths and offer a wide range of grates which enables Josam to provide a solution to your application needs. Dedicated and knowledgeable customer service personnel are available to assist you in selecting the right engineered trench drain system for your project.
KEY ADVANTAGES OF PRO-PLUS™ TRENCH DRAIN:
| | |
| --- | --- |
| - Shatterproof and extremely resistant to abrasion | - 4" and 8" nominal interior widths |
| - Frost, heat, and rust resistant | - 1 meter (39.4") and ½ meter (19.7") lengths |
| - Lightweight – 70% lighter than polymer concrete | - Available with PRO-SNAP grate securing system without bolts |
| - 1.5 times stronger than polymer concrete | - Free of halogens, asbestos, and toxic heavy metals |
| - Non-porous structure with a smooth surface | - Load class A-F (Including steel, ductile iron, & non-metallic grate options) |
| - Resistant to chemicals, oil, gasoline, hot asphalt, and tartaric acid | - Up to class E without a rail |
| - Non-flammable | - Available with a multitude of accessories |
| - Withstands fluid temperatures of 212°F continuous and 392°F intermittent | - An excellent cost performance material |
| - Expands and contracts less than polymer concrete | - Recyclable |
| - Complies with UL 94 HB Fire Rating | - Easy to handle and install |
| - Available with and without slope | - Labor Saving |
Josam offers a free-of-charge technical design service providing hydraulic calculations, CAD drawings, quality schedules, and product specifications. Take advantage of these technical services available to you for your next project.



Josam's PRO-SNAP™ Grate Securing System for PRO-PLUS™ Trench Drains can be secured and removed quickly & easily with a single hand movement, eliminating the use of bolts or special tools. PRO-SNAP™ prevents loose or rattling grates and offers rugged protection. The closure fits flush with the channel upper surface giving an attractive draining solution.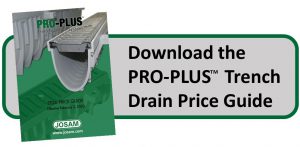 WARNING: Cancer and Reproductive Harm – www.p65warnings.ca.gov
Learn more about this warning.